Neuvorstellung:

http://www.oysteroil.com/s/home.asp
Seit längerem verfolge ich ein interessantes Öl-Unternehmen aus Kanada.
Seit dieser News habe ich sie auf der watchlist:
June 28, 2016
Oyster Oil and Gas Ltd. Announces the Appointment of VSA Capital Limited as Financial Advisor and Corporate Broker
Vancouver, British Columbia, June 28 2016 - Oyster Oil and Gas Ltd. ("Oyster") announces it has appointed VSA Capital Limited as its financial advisor and corporate broker.
"We are pleased to appoint VSA Capital Limited, a London and Hong Kong based investment banking group with its highly regarded expertise in the natural resources sector and has been actively involved in financing projects in Madagascar to assist Oyster in advancing our strategy for growth," commented Mike Wood, CEO of Oyster.
About VSA Capital Limited
VSA Capital Limited is a London and Hong Kong based investment banking group providing corporate finance and corporate broking services to companies operating in the natural resources sector.
http://www.oysteroil.com/s/news.asp....VSA-Capital-Limited-as...
Nun habe ich die ersten 100% Kursanstieg verpasst, aber aus meiner Sicht fängt die Story erst richtig an...
Habe letztes Jahr an die Company emails geschrieben, aber leider waren die Antworten sehr karg....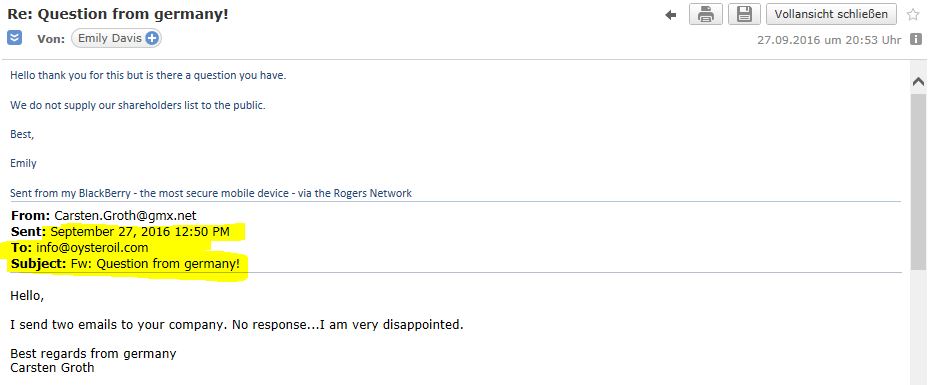 Da standen sie um 0,22 CAN$ .... heute 0,48 CAN$ !
Bei diesem Wert sollte man immer mit Limit arbeiten, da der Wert sehr markt-eng ist.
- CEO Michael Wood ehemals CEO von Heritage Oil (die hatte ich auch damals) ! Also Vollblut-Investor bei Afrika Öl-Investments.
- Gregory Turnbull , Director bei Oyster Oil -war damals beim Heriatge Oil Übernahme von 1,7 Mrd. CAN$ dabei...hat Kontakte weltweit..
https://www.mccarthy.ca/lawyer_detail.aspx?id=4773
- Top Assets
Top share-structure:
- Nach der letzten Finanzierung im Januar 2017 nun ca. 39,7 Mio. Shares draussen.
January 13, 2017
Oyster Oil and Gas Ltd. Announces Proposed Financing
http://www.oysteroil.com/s/news.asp....ounces-Proposed-Financing
Nach dem Kursanstieg könnte natürlich ein weiteres PP kommen...da Oyster Oil Geld benötigt, um die Projekte voranzutreiben.
Meine damalige Vermutung war eher das VSA Capital vielleicht Kapital in das Unternehmen rein bringt. Kann ja noch kommen... Evil or Very Mad
Nach über einem Jahr haben Sie sogar mal die Präsentation erneuert:
http://www.oysteroil.com/i/pdf/ppt/....orate-Presentation-Q1.pdf
Anbei die letzte Aufstellung der Assets aus Sedar: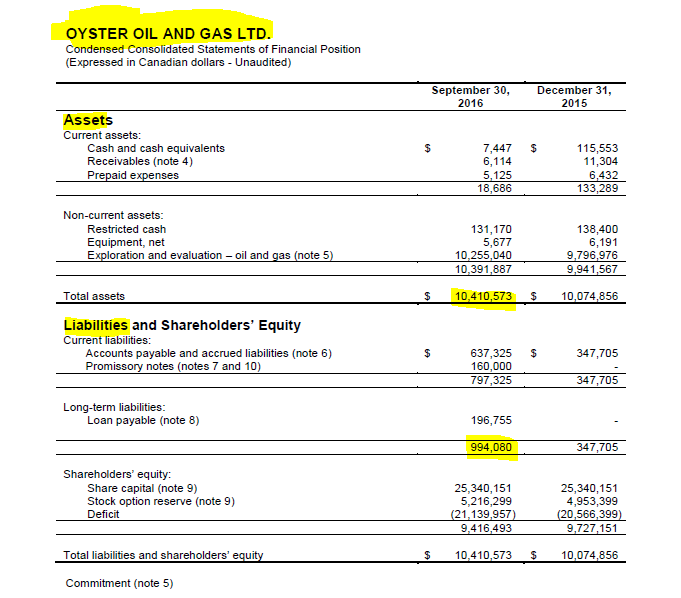 - klar ist, Oyster braucht mehr Geld, aber die Assets sind mehr Wert als die aktuellen Verbindlichkeiten und aufgrund der positiven Reputation der Leute Wood & Turnbull glaube ich an der Story von Oyster Oil !
---
gemäß § 34 WpHG darf der Autor zu jederzeit Short- oder Long-Positionen in der/den behandelte(n) Aktie(n) halten.